As featured in
Do you dream of publishing a book?
You need a skilled writer and industry expert to make it a success.
We can make your book publishing dreams come true!
New York Times and LA Times #2 Bestseller
"Kevin and his team allowed me to take my work to the next level…a great experience across the board."
Norman Ollestad, Crazy for the Storm
Awarded a Prestigious Kirkus Star
"Kevin and his team are professional and beyond talented…above and beyond my expectations. I am thrilled!"
Ingrid Reinke, Dead-End Job
18 Weeks on Amazon Bestseller List—over 20,000 copies sold
"My book spent 18 weeks on several Amazon Bestseller lists thanks to your time and attention to my manuscript."
Julie Kirtón Chandler, The Children of Gavrilek
NFL Athlete and Super Bowl Champion
"Kevin, thanks for all of your help with the book! I couldn't have done it without you!"
World-Renowned Author and Publishing House
"…impressed…several of our authors have gone out of their way to express how much they've appreciated their professional advice and helpful insights." —Wendy Gallaghar, VP of Production
Bob Proctor and LifeSuccess Publishing
Featured Author on Dr. Oz and The TODAY Show
"Satya for president!"
Caroline Jhingory, Half My Size
Widely Published Financial Analyst
"I'm more than pleased. The chapters flow like a brook....Thanks again, Kevin. You guys are terrific!"
Business Strategist and Publishing House Director
"Our publishing firm has had the pleasure of working with Kevin and his talented team of ghostwriters and editors since 2012... They are truly a top-shelf service. Exceptional all around!"
David Marshall and PF Publishing
Tell Us About Your Book! Call 844-997-4837
Call now for a free consultation, sample, and no-obligation price quote.
Ghostwriting, Editing, and Publishing Services
Kevin Anderson & Associates provides premium ghostwriting and editing services that include everything necessary for developing and publishing your book. Our firm gives you the rare opportunity to work with a
New York Times
bestselling editor and ghostwriter who will guide you through every step of the process to ensure that your book is well written, meticulously edited, and published.
Proven Record of Publishing Success
Our extensive client list includes
New York Times
bestselling authors, publishing houses, celebrities, business executives, scholarly journals, and a wide variety of first-time authors. We are a well-respected firm in the publishing industry with many of our clients securing lucrative deals from prominent publishers, including HarperCollins and Random House. Whether through a traditional book publisher or a POD press, our comprehensive writing services
guarantee
that your book will be published and available to your readers.
Our Comprehensive Writing Services Include…
Why Choose Us to Edit or Ghostwrite Your Book?
Choose us because you deserve the very best service in the industry.
Premium Quality
From the moment you contact us, you will be treated with the highest level of professionalism, customer service, and dedication to excellence. We take great pride in the quality of our work and value long-lasting professional relationships. Our accomplished firm boasts a long history of success and offers decades of combined professional experience.
Personalized Writing Services
Every client and manuscript is unique, which is why we prioritize getting to know you, your book, and determining exactly what's needed to achieve your publishing goals. Our team will be intimately involved in every aspect of the process to ensure the highest level of quality service. We are available to you via phone and email during extended office hours and we remain on-call during evenings and weekends. Our dedicated team enjoys helping clients through every step of the process—call us at any time at 844-997-4837.
Want to Learn More About Our Editing and Ghostwriting Services? →Visit our

FAQ page

.
The Latest from Our Blog…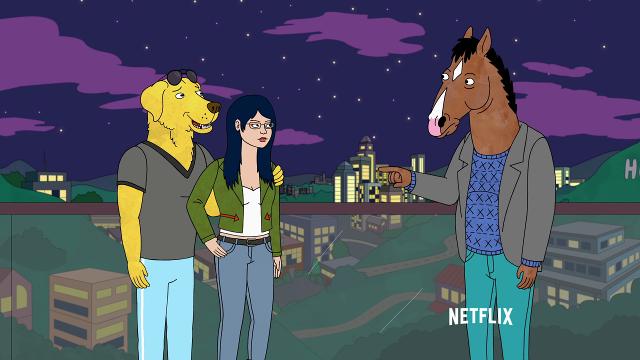 From left to right: Mr. Peanutbutter (Paul F. Tompkins), ghostwriter Diane Nguyen (Alison Brie), and BoJack Horseman […]